Our Christmas Window - Paper
December 13 2019 – Claire Wright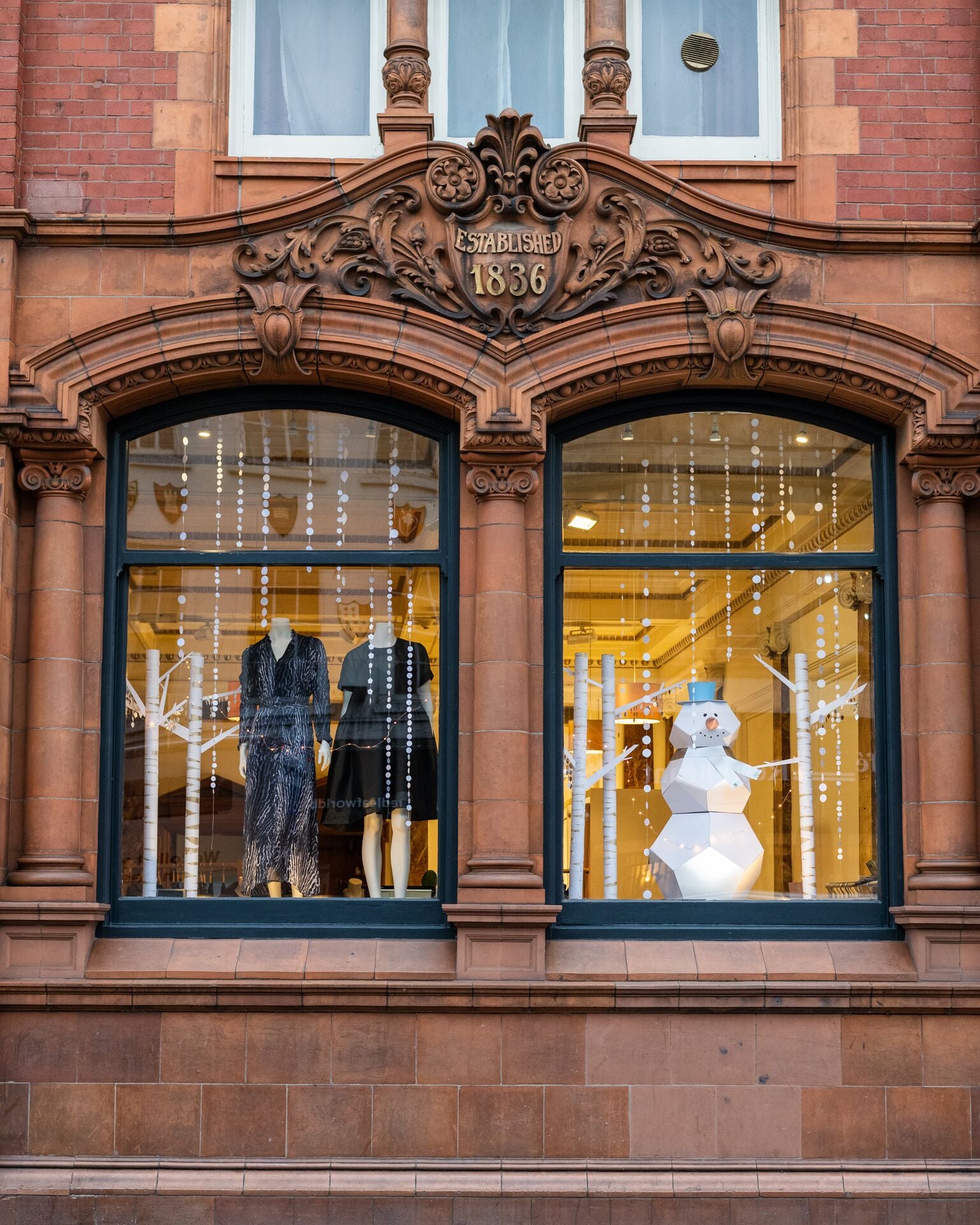 It has become a Christmas tradition that at the end of November our houses are taken over by paper, card, fabric, mdf and glitter as Claire and I create our Christmas window.  Every year we try to think of a different theme that will work in our rather large and rather tall windows and make the display at home then bring it to Worcester to install.
This year we decided on a paper theme and, inspired by an origami snowman we had seen some time ago, decided we would build a large-scale version for the window.  This required hours of measuring mount-board into perfect, tessellating pentagons and then glueing them together into a 3d snowman in 3 parts.  It took a while to perfect the construction (and possibly even longer to work out how to make a card hat) but we were really pleased with the result.  


For the window scenery, we used a sewing machine to join paper circles and pentagons into falling snow that we were able to hang at the back of the window.  We also created our silver birch trees by recycling postal tubes, adding gold spray and A4 paper to create the effect of the bark.  For the leaves we spent an evening stamping out gold and silver leaves, then adding holes to thread wire through.  We wanted to create a little movement as the leaves and snow rotate slightly, so wired each one with a small hoop.  We then attached these to the branches of our trees.
We had our 'little helpers' Eddie and George with us, both aged 8.  They had a wonderful time watching us create the window, even though it took longer than expected to put it all together and it was a very long day.  They asked whether they could come back to the store again the following weekend! 
You can watch us making our Christmas window here:
We hope you like the window and have a Merry Christmas everyone!
x Jenny